Sirolo – Numana – Portonovo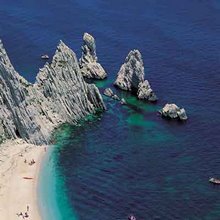 NUMANA. Ancient greek emporium, the small centre of Numana is today a renowned touristic resort, which offers amusement, relaxation and nature. To visit with the guide: the Old Town Center, the Civic Antiquarium and the Parrish Church of an ancient foundation, which preserves on its interior various works of local artists.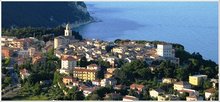 SIROLO. It is a charming medieval village which boasts a remarkable panoramic view of the Conero Riviera. To visit with the guide: the St. Pietro Church, which is the oldest one in the village; the St. Nicola da Bari Church, established in the XVIII century on the ruins of a previous religious building; the Rosario Church, of the XVII century in Baroque style; the Archeological Area "I Pini", with the ruins of the ancient village; the Cortesi Theater, built in XIX century.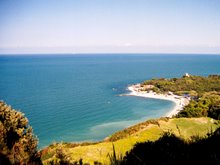 BAIA DI PORTONOVO. It is located between the Conero Mountain and the sea, whose beaches are a well known destination of an elite tourism.  To visit with the guide: the St. Maria little Church, jewel of the Romanesque architecture.